Progress of LNER Brake Pigeon Van 70759 - 2013

January 2013

The transformation of BG(P) 70759 into a Brake 3rd (BTK) continues with the completion of the re-framing of the

corridor side. We are taking advantage of the dryish bit of weather and have started the re-framing of the

compartment side.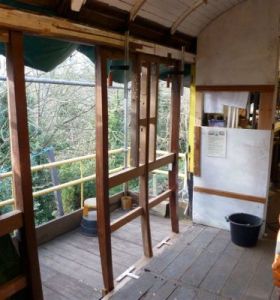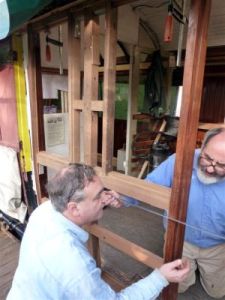 Final positioning of the

second section of frame
Second frame section in position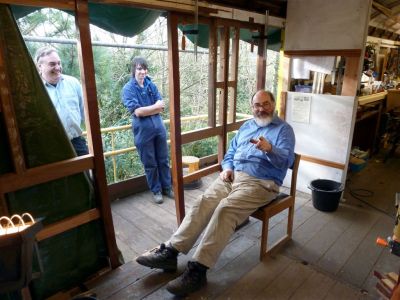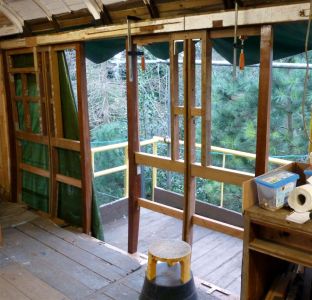 View showing the first and second

sections of frames in position
A grumpy customer complaining about the

seats and the excessive ventilation

We told him to shut up and finish the job!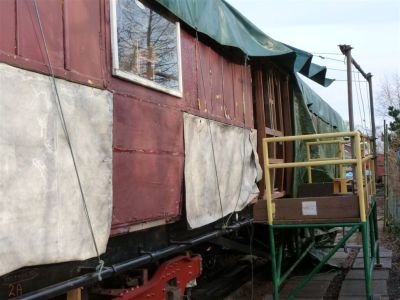 2 views showing the frames from the outside.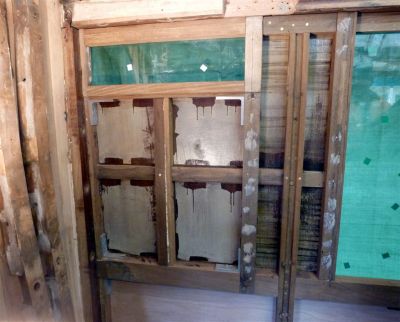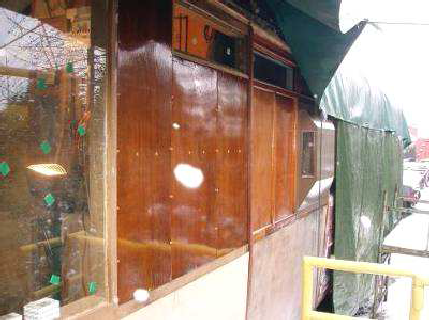 Internal and external views of new fitted top panels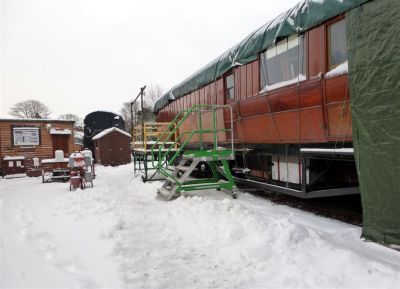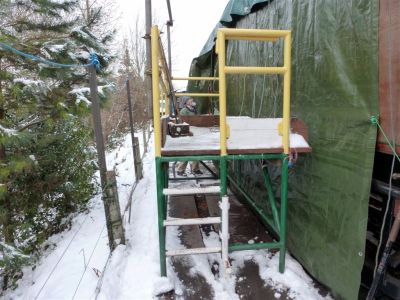 In the SVR brochure it states the carriages are lovingly restored in our own workshops!

Can somebody tell us where our workshop is?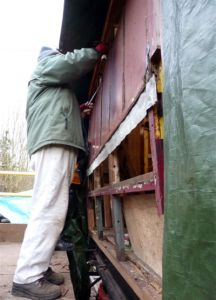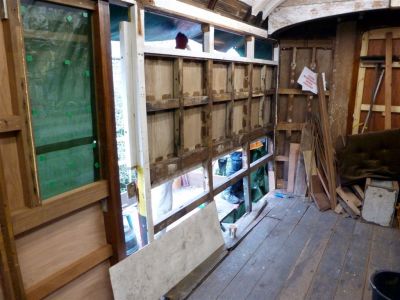 Temporary lower external cover removed
And now for the top panels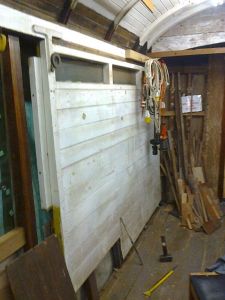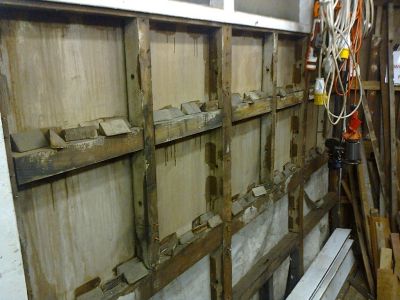 Last set of original match

boarding before removal.
Match boarding removed.

Note the loose external panel securing blocks!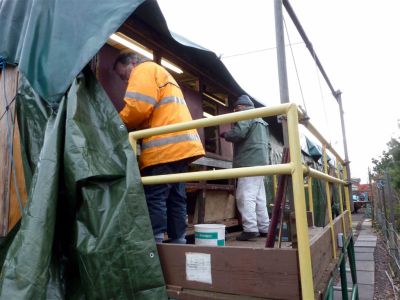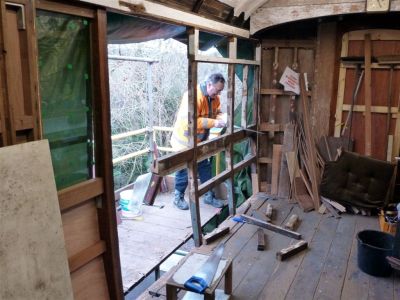 Removal of last panel and frames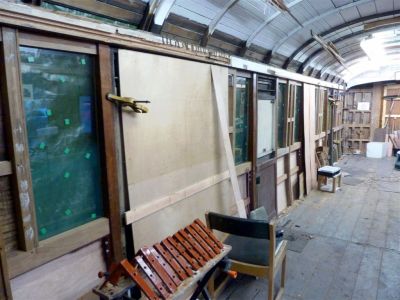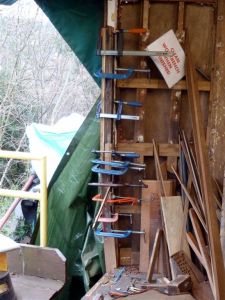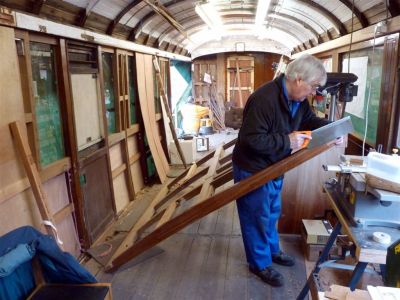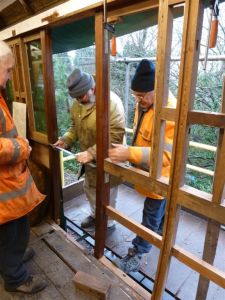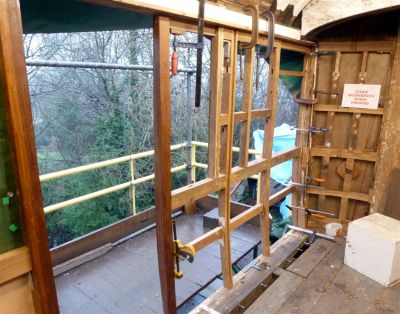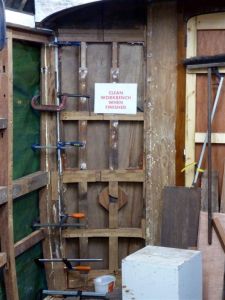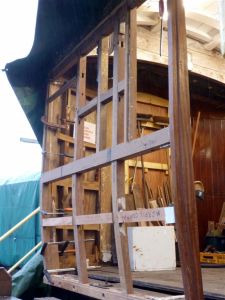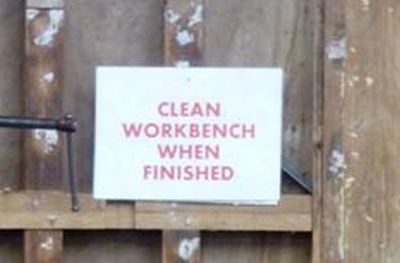 Colin finishing the final section of frames.
What do you call a collection of clamps?
Checking the width of the doorway
Frames glued and bolted in position.
An external view of the fitted frames
View showing the length of new framing
And we solved the problem of cleaning the

workbench!
March 2013

At the end of March the Teak panelling arrived and after unloading and stacking, the task of measuring and sorting

began before the nerve racking job of cutting it to size, then the good bit, fitting them.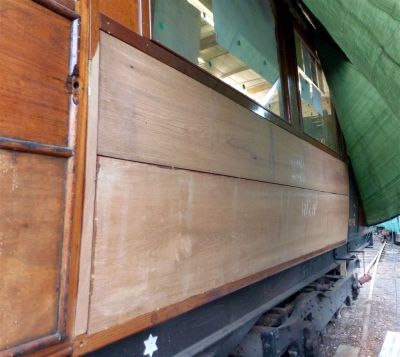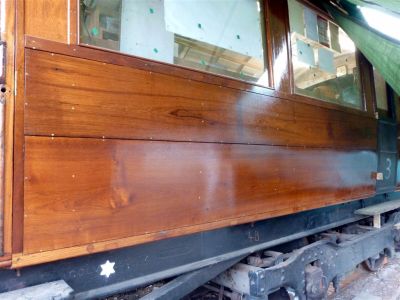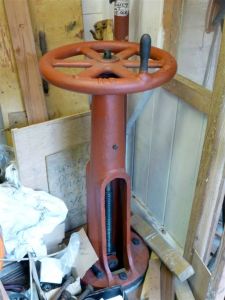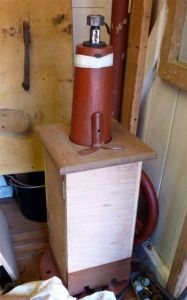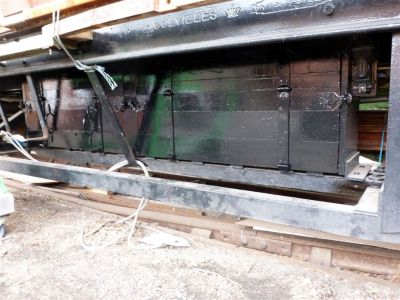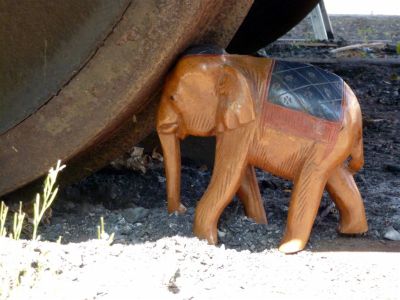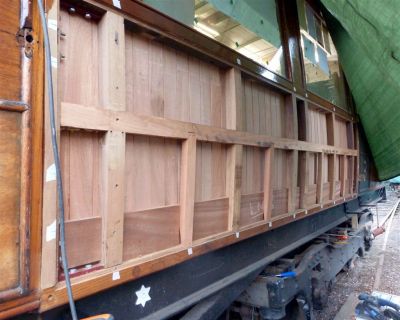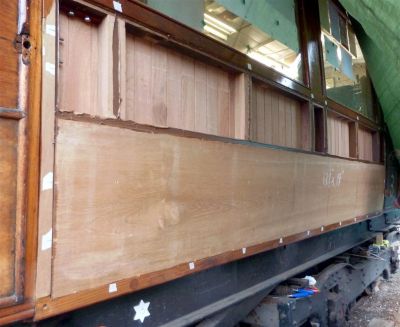 Temporary plywood panel removed showing for the

last time the frames and back of the match boarding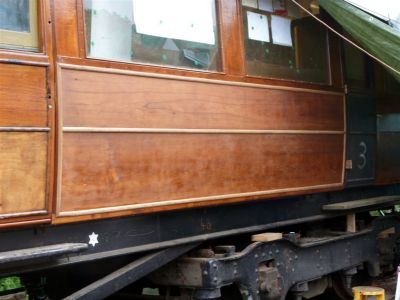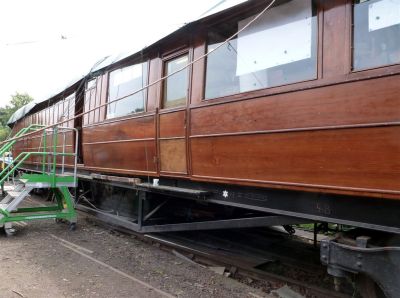 Beading attached and varnish flatted

After yet another coat of varnish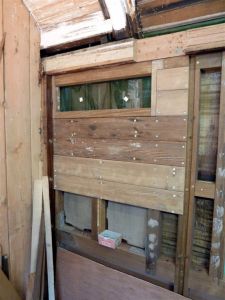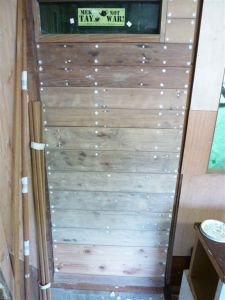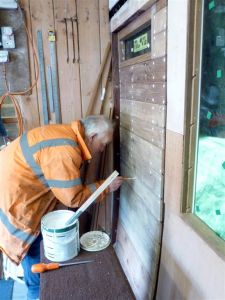 Fitting of the last section

Mike applying primer to

screw heads prior to filling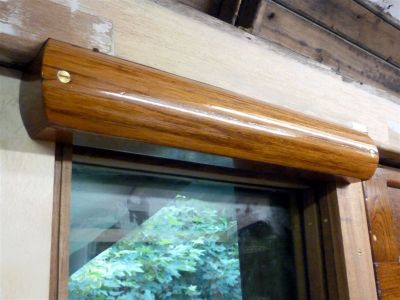 Compartment side panelled out
The brake stand has been reinstated
As the fat controller would say, the battery

box has had a new coat of paint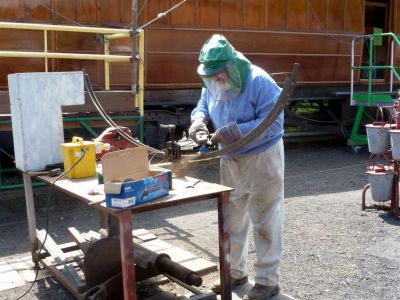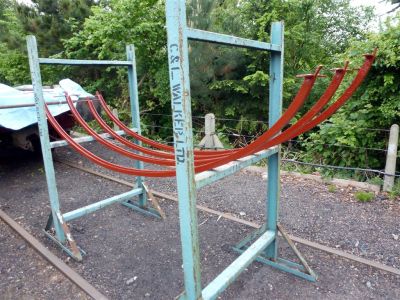 In preparation for the new roof some spare roof

hoops have been cleaned and painted.
Thursday 18th Shunt day! The long awaited move in to the Bewdley Carriage and Wagon Works for re-roofing.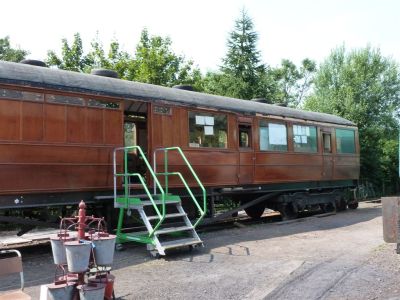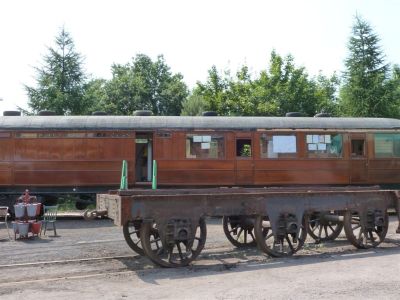 2 views of 70759 without tarpaulins prior to the shunt.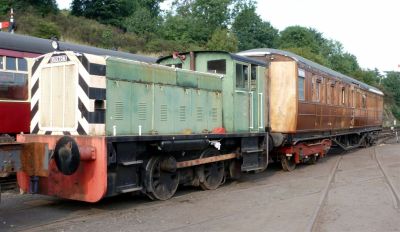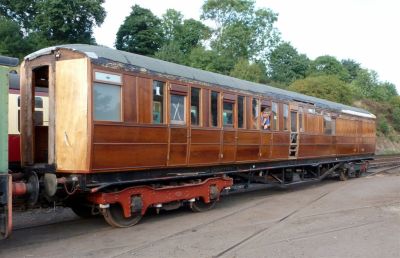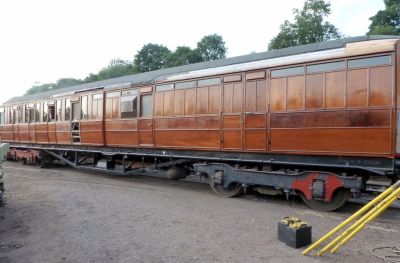 2 Views showing the completed panelling and the new passenger section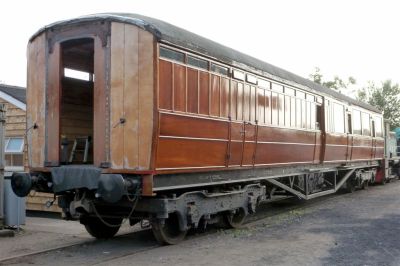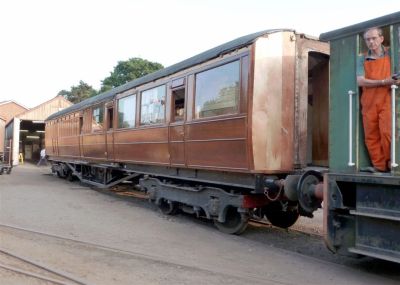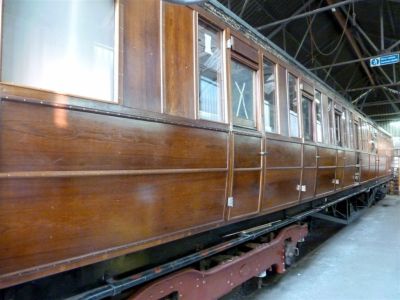 70759 approaching the C & W Works
After an hour waiting out on the Stourport line while the yard is cleared, 70759

returns for the move in to the C & W Works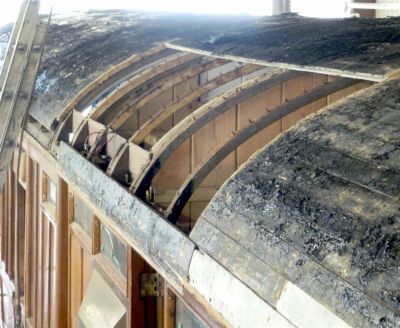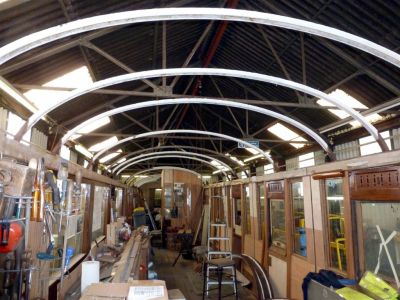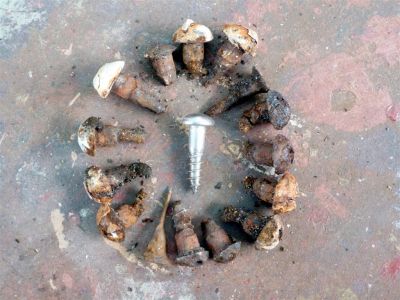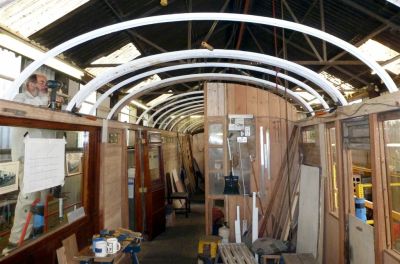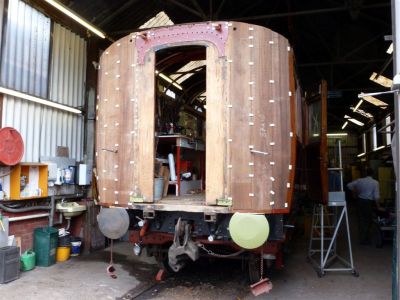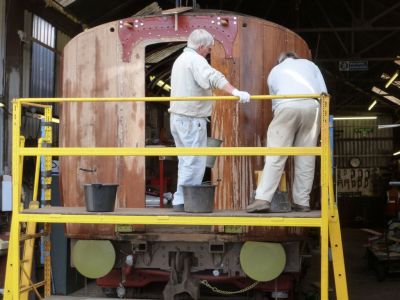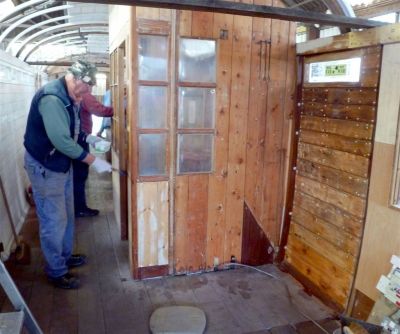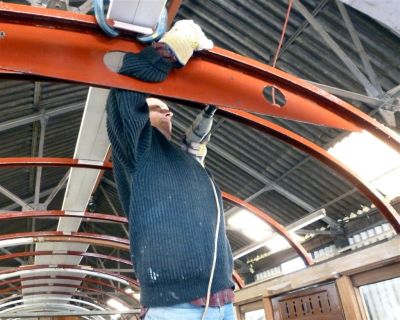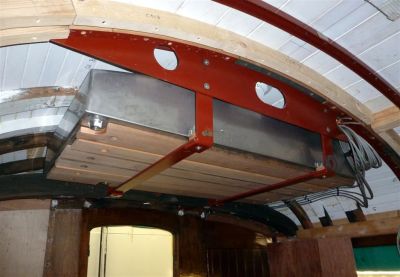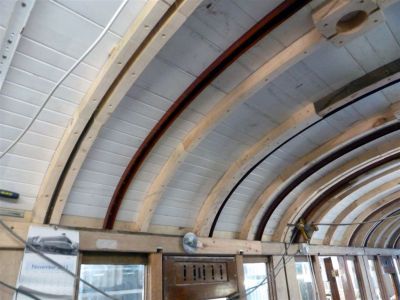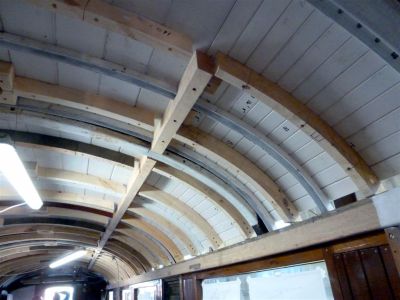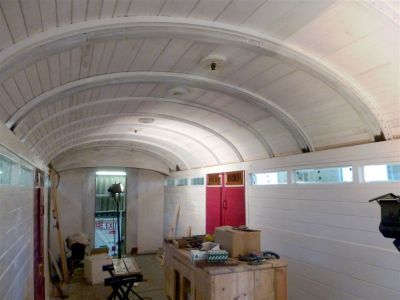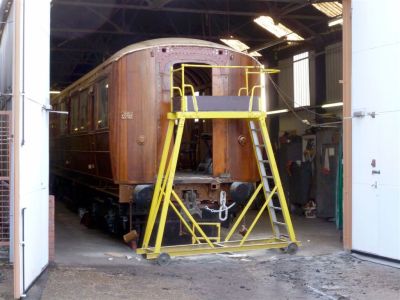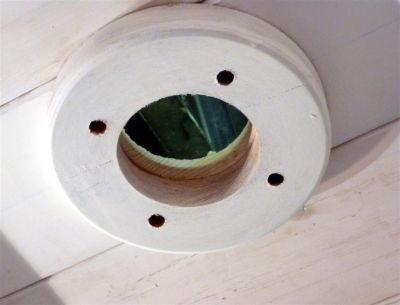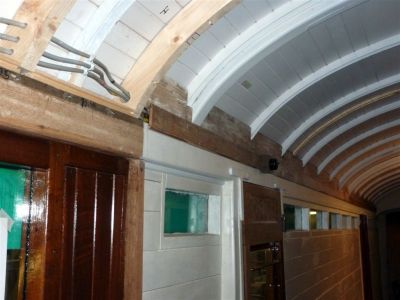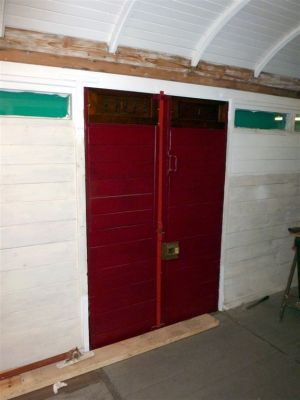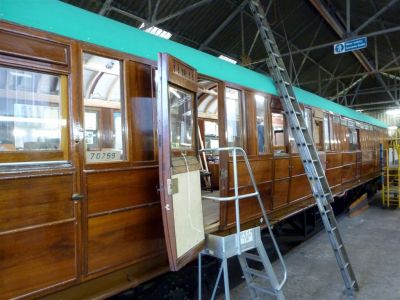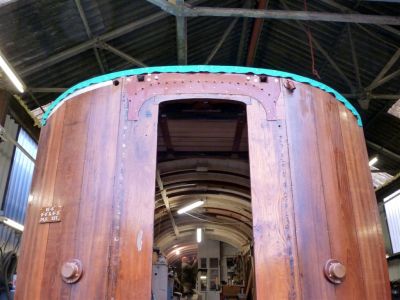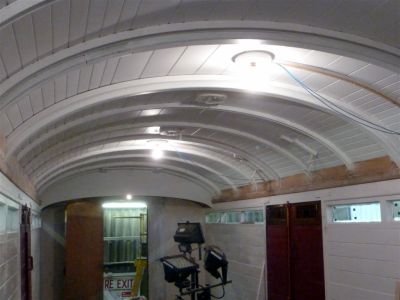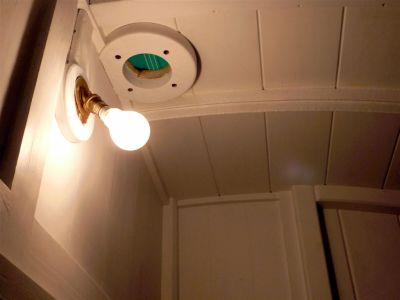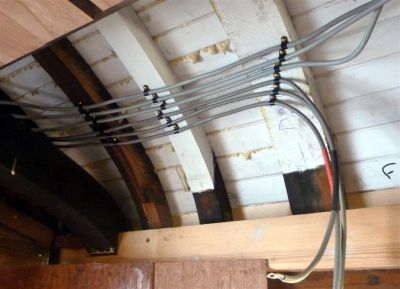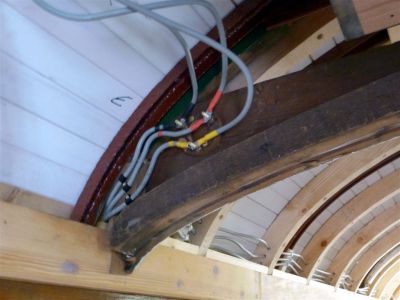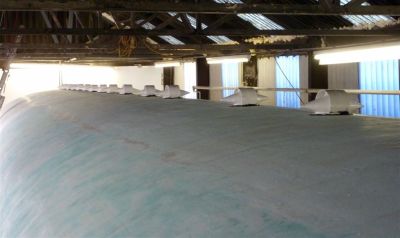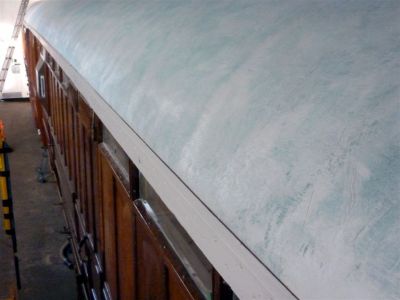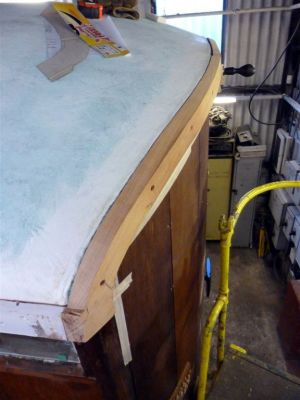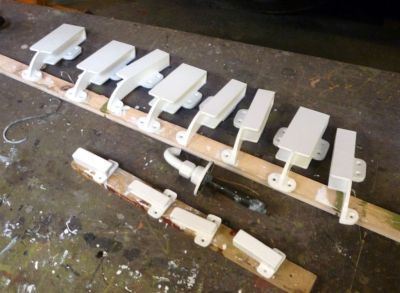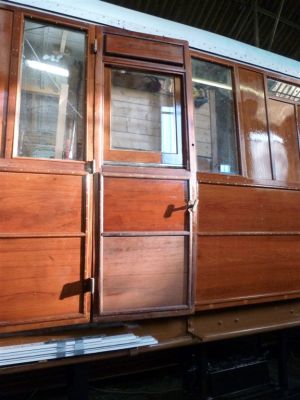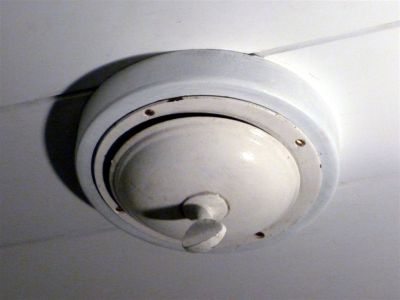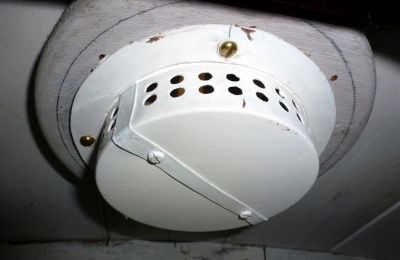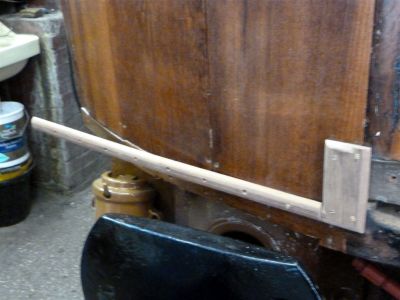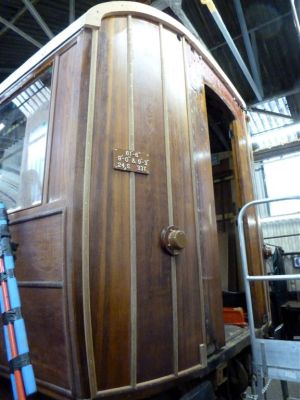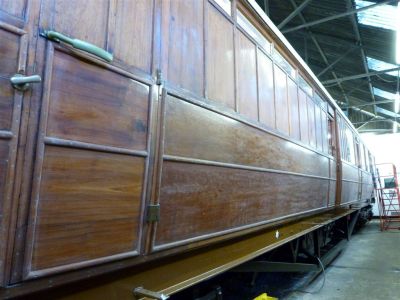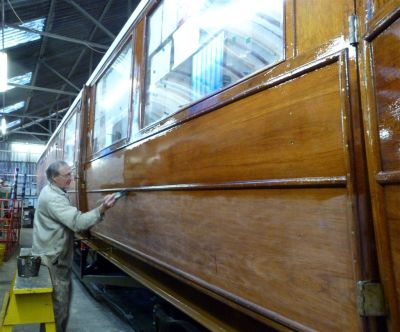 July - December 2013

Re-roofing and other work completed.
Example of screws removed from

roof with new one for comparison.
Refurbished roof hoops reinstalled
First coat of varnish going on
Panel repair / replacement completed

Water tank mountings under construction.
New roof completed and ceiling supports

Ceiling and corridor screen supports
End panels varnished, dimension plates

and jumper terminal boxes fitted
Water tank fitted. Note the green roof canvas

View of passenger / freight junction
Roof canvas fitted and trimmed
Freight end lights fitted
A white roof complete with capping strip
Destination board brackets
Last door to get overhauled is fitted
Water tank filler pipes fitted
Internal ventilator over water tank
Side flatted ready for another coat of varnish
Another coat of varnish !