GWR 5043 Wheelchair and Buffet Progress 2018.

5043 after shunt and Turn at Bewdley, June 13th.


This site and all content is copyright of the LNER (SVR) Coach Fund and the Severn Valley Railway Charitable Trust Ltd.
All rights reserved

_________________________________________________________________________________
Restoration Progress 18-3-2018
By mid March 2018 the very rotten wooden framework of half of one side (the one from behind the bar to the first double door) had been replaced with new frame timber to the new configuration. Several components were refurbished for 5043 including a side door, several quarterlights and some sliding window frames. The refurbished door was in position and made to work. The framework of the end nearest to Kidderminster seemed at this stage to be sound enough to repair rather than replace.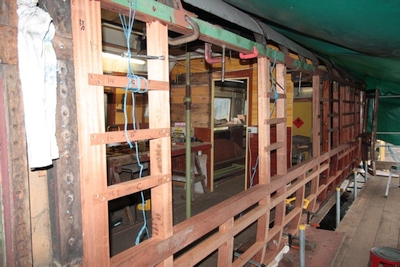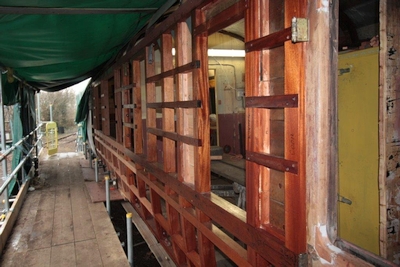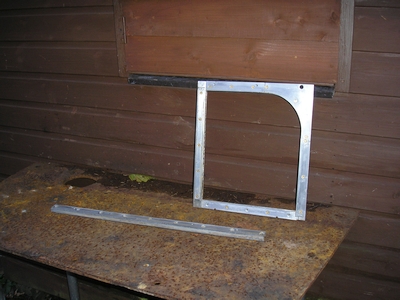 Door hung and first panel fitted
_________________________________________________________________________________
Progress Update 29-7-2018
It did prove possible to save the vast majority of the oak framing that was the Kidderminster end, with only a new corner post and some patching required. This end and the new half side were then clad outside in 1.5mm thick galvanised steel sheet, retained with stainless steel woodscrews and bedded in acrylic mastic. Internally the recesses were filled in with 1" thick redwood T&G to absorb the inevitable knocks from wheelchairs or to provide a base for attaching internal fittings. The refurbished quarter lights were fitted complete with shutter sliding gear, and all windows were glazed with safety glass. This work took until mid-June. On 13th June 5043 was taken on a return trip to Kidderminster turntable. On its return a few hours later the other side was brought alongside the working platform and within a fortnight and after supporting the roof, over 30 ft of rotten side framing had been removed. By 28th July 30 ft of replacement side framing was in place, including for the first time a new bottom side section, and made strong and secure with screws, bolts, knee irons and gusset plates. The lower steel panels had been cut ready for fitting, and the corner door hung. A start had been made on the forthcoming roof refurbishment; a well known local firm of section benders had successfully rolled angle iron sections for a trial carline (the semi elliptical hoop that goes across the carriage forming the shape of the roof). The complete component was assembled by Mike and Rob, and fitted in place. That leaves 29 carlines to go!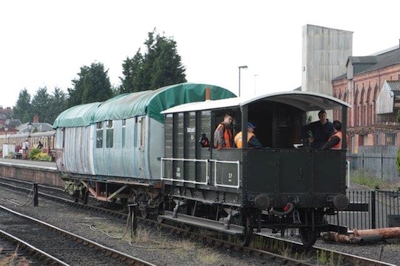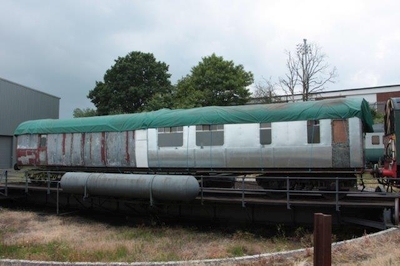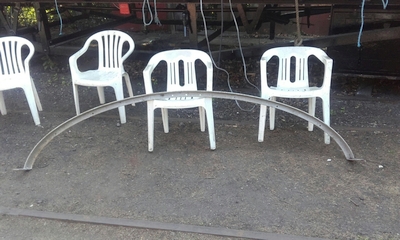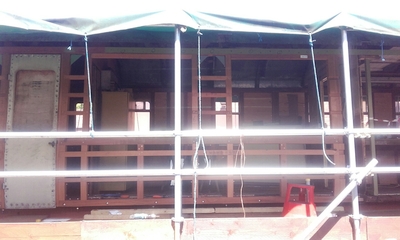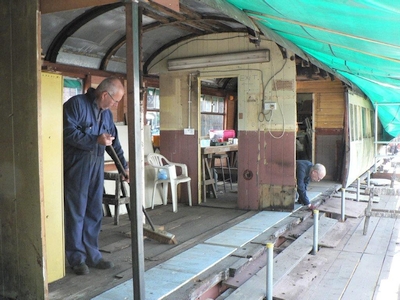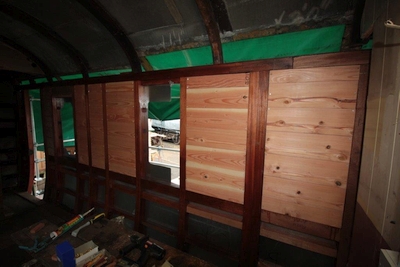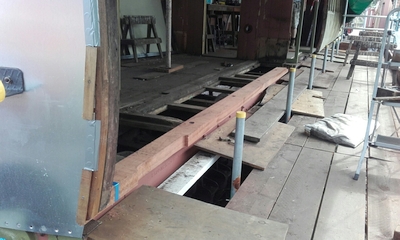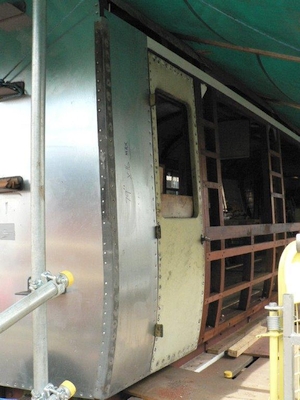 Carriage on the turntable
Awaiting return to Bewdley
Panelling and frames removed
New bottom side in position
Progress Update 12-8-2018
Progress continues with the second half side, which is a repeat of the opposite half that we made earlier. All its steel panels have been cut and the screw holes drilled, countersunk (by pressing "dimples" in the panels) and temporarily fixed in place with a few woodscrews. The centres of all the screw holes have been spotted through with a small drill. Next move will be to remove the panels and, to allow them to lie flat, countersink the wood, thus making clearances for said dimples or, where panels overlap, cut 1" dia holes in the lower panels. They will then be permanently screwed in place and the vertical seams welded to prevent future water ingress. Inside meanwhile, progress has continued with filling the frame recesses.
Now that the prototype is correct, the main batch of steel rolled sections to make the roof carlines has been ordered from Angle Ring for delivery later this month, allowing us to refurbish the roof frame as our main winter project. Meanwhile the window restoration continues, and enough should be finished in time for the half side to be glazed in early September. In the workshop, part of the third half side has been trial assembled, ready for fitting early in 2019 when time and weather will allow.
Its hoped to style the interior of the "new" 5043 in a similar manner to the GWR diagram H55 Buffet Cars in Art Deco style with teak veneered panelling. To achieve this end, many fittings need to be sourced. If we're lucky there may be enough in our stores, or another group may have some spares. Otherwise its often a long winded process of research, design, finding a manufacturer willing to quote, raising the cash, and finally making them. Currently we're looking into making new side door frames (the originals are 90 years old and very fragile), gangway bellows, saloon lamp fittings (extraordinary looking conical affairs with three light bulbs sticking out of the sides) and the rather splendid cast brass heater covers which will be a prominent feature of the finished carriage.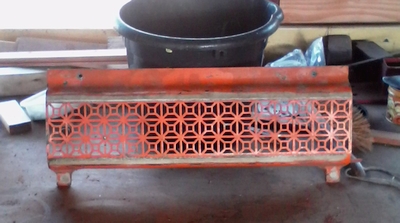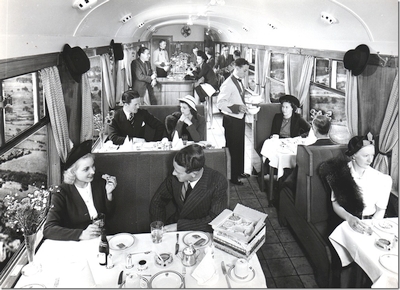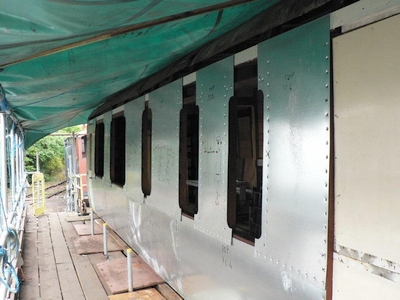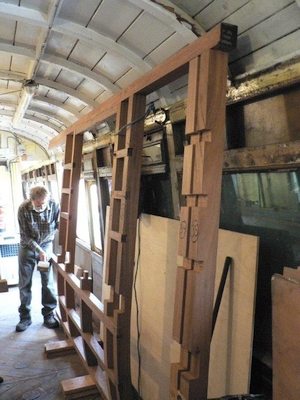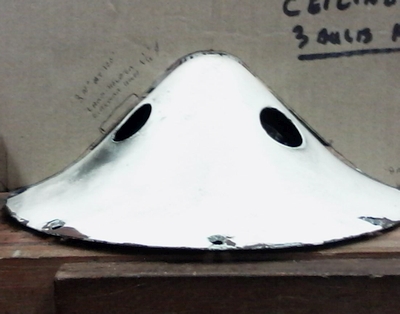 Third half of frames trial assembled
GWR diagram H55 Buffet Car interior