March 2017
A number of panels have been removed for repair and for frame inspection, the new seat ends and legs have been varnished.
February 2017
LNER 24105 New seat ends arrive from Boston Lodge at the Ffestiniog and are trial fitted.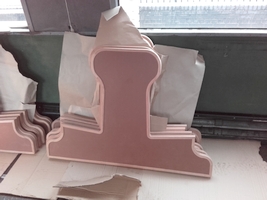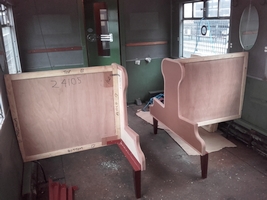 3rd January 2017
LNER 24105 Wheel chair carriage is taken out of service for overhaul and refurbishment. Seating dismantled, seat backs and bases retained for use in the new seating.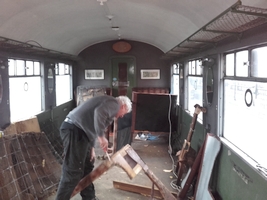 14th September 2016
LNER 52255 and LNER 7960 Restaurant Car undergo test run prior to the Scotsman visit.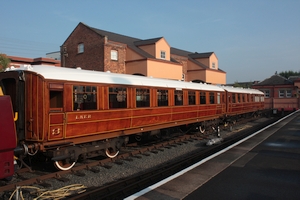 August 2016
LNER 52255 Varnishing and lining out completed. Vehicle moves in to Mechanical workshop for bogie swap and checks.
July 2016
LNER 52255 Lining out begins
June 2016
LNER 52255 Lino flooring laid, seats assembled with Gresley style ends and the new wall lamps fitted. Roof refurbished as 43600.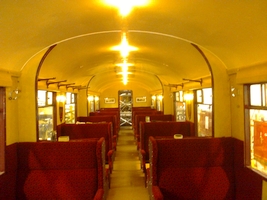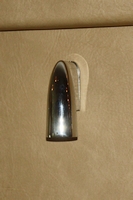 May 2016
LNER 52255 Exterior re-assembled and Interior upgrade begins.
April 2016
LNER 43600 Re-enters traffic.
March 2016
LNER 43600 Re-canvas completed a quick re-varnish will be done before it re-enters traffic.
February 2016
LNER 43600 Re-attaching roof boards begins 900+ holes drilled and taped threaded screws fitted.
January 2016
LNER 43600 Re-canvassing of the roof starts.
LNER 52255 Enters paintshop for major body repairs and interior upgrade.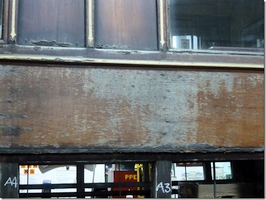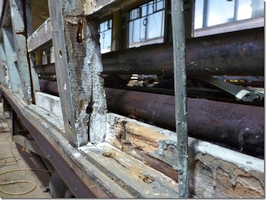 September 2015
LNER 43600 Roof develops leaks decision to re-canvas it early 2016.
January 2015
LNER 52255 Overhaul and re-furbish started with the Paint Shop volunteers dismantling the interior. The new seat ends are assembled at the Bewdley workshop.
November 2014
LNER 43600 Re-enters service.
GNR 2701 Enters the paint shop for a re-varnish.
May 2014
LNER 643 Overhaul completed.
LNER 43600 Re-enters the paint shop for major body repairs, re-varnish and a complete upgrade of the interior including new wall lamps, tables and upholstery.
January 2014
LNER 643 Buffet under goes body repairs, a re-varnish and Mechanical overhaul.
LNER 43600 Overhaul and re-furbish started with the LNER Carriage group removing the BR seats and fitting the new style ones.
Autumn 2013
New seat ends for LNER 43600 & 52255 assembled and finished.
Mid 2013
Components designed and obtained for new seat ends for TTOs LNER 43600 & 52255 to a new Gresley like rounded shape, these will replace the Ex MK 1 ends currently fitted.