GWR 9581 (Formerly 5043) Wheelchair and Buffet Progress 2020 January - June.


This site and all content is copyright of the LNER (SVR) Coach Fund and the Severn Valley Railway Charitable Trust Ltd.
All rights reserved

Progress Update February 2020
Work on 9581 has moved on a phase, with most of the more spectacular jobs, i.e. rebuilding the bodysides and roof, now more-or-less finished. With the onset of winter weather the LNER Group's workforce has been concentrating on the interior of the carriage.
Photographs 1-5 shew stages in the refurbishment of the floor. As supplied from Swindon in 1928, our carriage, then known as 5043 was fitted with a floor joist arrangement appropriate to its status as an 8 compartment 3rd with side corridor and 2 toilets. These joists lasted in their original form to the present day despite the subsequent removal of most of the compartment walls. The floor, constructed of 1" thick T&G softwood overlaid with a GWR standard layer of sawdust and adhesive (known colloquially as "compo") was not considered strong enough for 9581 because the point loading of wheelchairs is considerably higher than that of standing passengers. The old floor was therefore carefully removed in small sections and immediately replaced with panels cut from 18mm "Buffalo Board";-a high quality resin bonded grade of plywood intended for just this use. A second layer in larger panels will be added at a later date to add even more strength to the finished floor. The T&G was mostly still in good condition and re-used in constructing the internal walls (as described below). The joists were found mainly to be in very good condition despite their 90 year age, but a small number needed repair, and five extras were added to suit 9581's new arrangement of internal walls.
Photos 6-13 concentrate on the internal walls. As of 8th Feb these are now all made and in place ready to receive their fittings, once the rest of the heavy construction work is finished. Whilst the size of the door frames and corner posts dictated the use of new timber, we had enough suitable T&G softwood, mostly saved from 5043's internal walls and floor, plus a little left over from previous projects to construct both end walls for the saloon, the entire kitchen, and part of the toilet. Unfortunately we ran out of recycled timber leaving one end and the side of the toilet to be made from Buffalo Board;-at least it's strong enough to support the several handrails and baby changing unit that will be required WC fittings!
Photo 14 shews some of this fitting out work; - it's the frame for the kitchen ceiling. Part of this ceiling has to be lowered to accommodate the water tank that can just be seen resting on its steel supports, anybody taller than 6' 6" in their safety boots will have to duck their heads!
Photo 15 was taken in the passenger saloon. The two horizontal strips of timber above the windows are the top and bottom edges of the wiring conduits that will run along both sides of the entire carriage. This conduit will be finished with a thin plywood cover and painted white to match the ceiling. In the background a short length of steel conduit can also be seen, this was put there to prove that the legally required communication chain will fit neatly below. The customary notices threatening a £5 fine for improper use will "decorate" the wiring conduits.
Photo 16 depicts Colin, our lucky volunteer who has taken on the long and intricate task of providing a set of internal fittings for each of the eight side doors on 9581. Upside down on his bench is a decorative top cover of the type that originally incorporated an advertising panel. Whilst much material was recovered from the 16 side doors of 5043, not all proved to be reusable. Colin is therefore restoring the more substantial and therefore restorable top and middle horizontal members, but the vertical pieces, being of smaller section and often in more vulnerable locations have suffered badly from the ravages of time and use;-they're being replaced.
Photo 17 looks over Dave C's shoulder at what appears at first sight to be an empty bench. Closer examination reveals several small and unidentified components from one of the twenty sliding windows that he's currently refurbishing. It's true to say that the recreation of 9581 wouldn't have been possible without Dave's efforts in restoring, firstly ten sets of aluminium toplights (the small windows seen in Photo 15) and now the accompanying sliding windows that will shortly replace the plywood rectangles seen to be doing their best to keep the weather out. It should be mentioned that these window assemblies were recovered from scrap Mk1 carriages and supplied to us by our friends from the Llangollen Railway. In common with most traditional railway equipment they were received in rundown condition having "enjoyed long and busy lives". One at a time, Dave carefully dismantled them, removing bits of broken glass, old sealant, paint, and seized machine screws. Bent components were straightened, missing bits replaced, oversized holes plugged, re-drilled and tapped for new slotted screws. Finally each unit was reassembled with new glass and sealant, and then fitted in place in 9581. The sliding windows, which were even more difficult to dismantle, are now nearing completion. In addition to all of the above they needed replacements for the worn out/missing runners, coil and leaf springs and a new set of "skates" all to keep the windows operable.
There are many more members of the LNER group whose efforts haven't been mentioned in this update, either because they took the photos, or were working elsewhere at the time. Their work is equally important to the 9581 Project and will be covered in future updates.
RG/CG 9th February 2020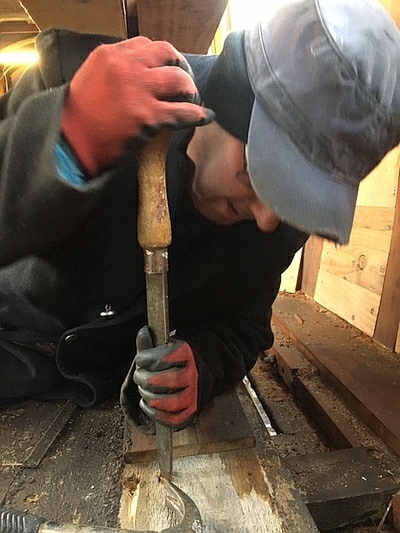 1 Removing the old floorboards for recycling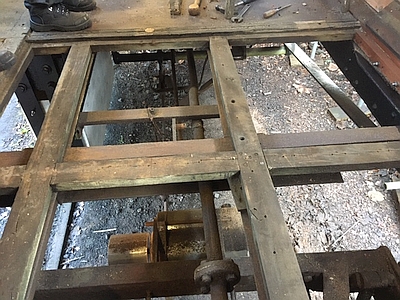 2 A view of the cleared floor joists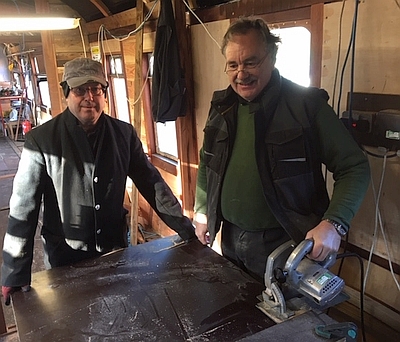 3 Simon and Mike cutting new floor panels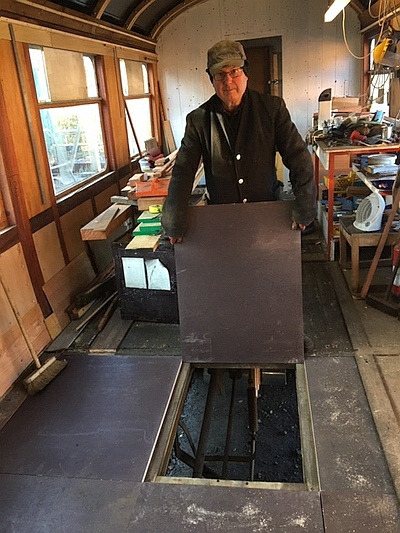 4 Simon about to lay a new floor panel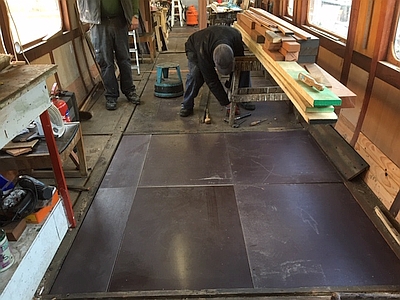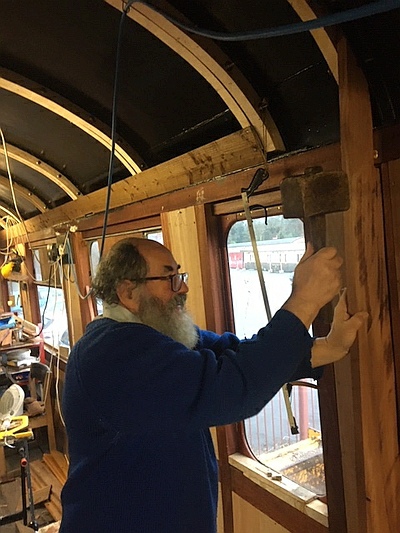 6 Richard making fine adjustments to a wall fastening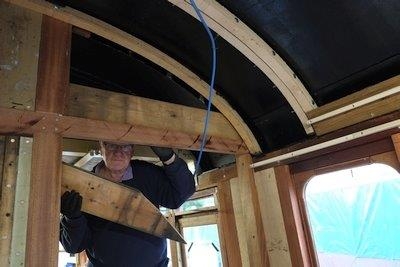 7 Roger putting another plank in the wall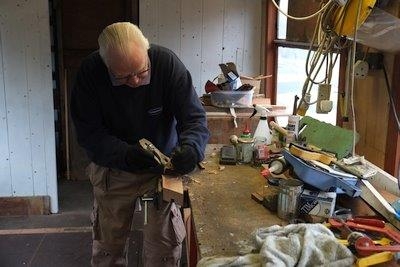 8 Roger adjusting a wall support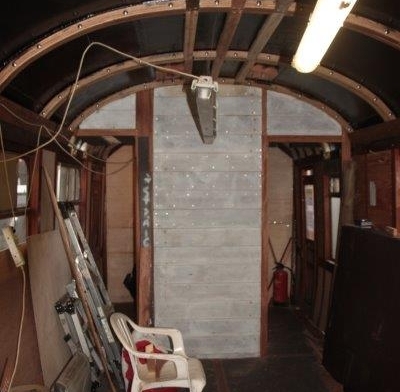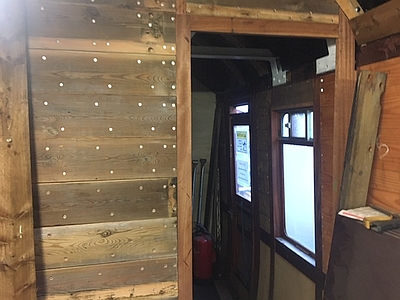 10 Closeup of the kitchen wall shewing the recycled floorboards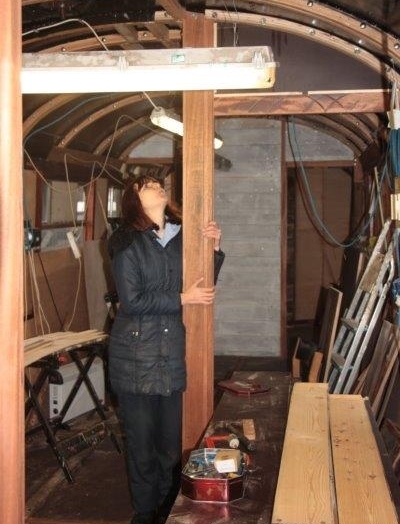 11 Samantha holding up the new toilet compartment's corner post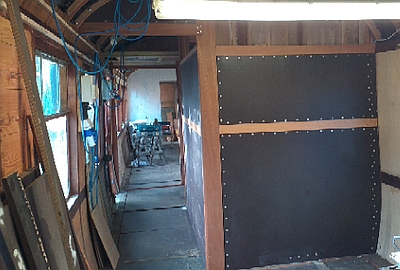 13 The toilet compartment and corridor as seen from the site of the bar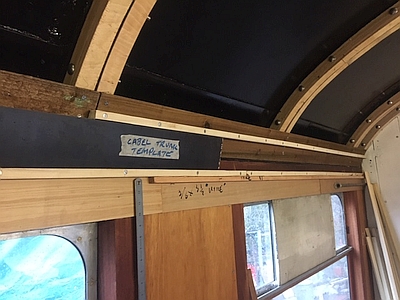 15 Wiring conduits will run above the windows
16 Colin restoring one of the inside fittings for one of the 8 side doors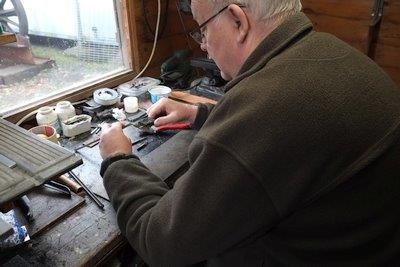 17 Dave refurbishing a sliding window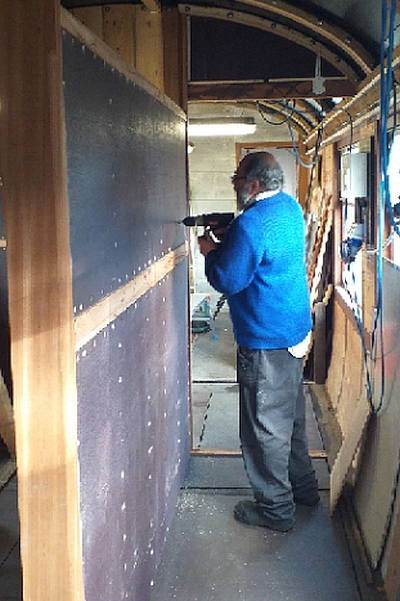 12 Installing toilet wall
14 Framework for kitchen ceiling
Progress update for March 2020
For everybody in the world March has been a difficult month, with heavy rain leading to widespread floods combined with measures to control a pandemic of severity unparalleled in the past 100 years. The SVR has been very hard hit by this, and I would ask everybody to consider supporting the Emergency Appeal which can be found on the Charitable Trust's website here: https://www.svrtrust.org.uk/index.php?page=Home
Regarding 9581, before the pandemic arrived with such severity that it led to a nationwide lockdown, the team made spectacular progress in a couple of areas.
Progress with the ceilings. A lot of thought had gone into the fixing of the ceilings. The GWR method was to attach plywood panels directly to the carlines, but with 9581 there was a problem. We'd kept the original roof panels, which were to dimensions suited to a compartment third, not an Accessible Saloon Miniature Buffet (ASMB). Since the carlines were spaced to support the roof, these were not the right spacing for the ceiling panels and would result in a very untidy looking ceiling. The answer lay with the LNER;-they supported their large saloon ceilings on an inner arch of tongue and groove (T&G) softwood, attaching the plywood panels neatly to this. Photos 1-4 shew the process from a pile of planks newly delivered from the timber merchant to the finished job in both bar and saloon.
The framework for the lowered sections of ceiling in vestibules, WC and kitchen has been made and fitted using reclaimed and recycled timber, but the installation of the T&G in these locations has been delayed by the measures imposed to control the coronavirus pandemic.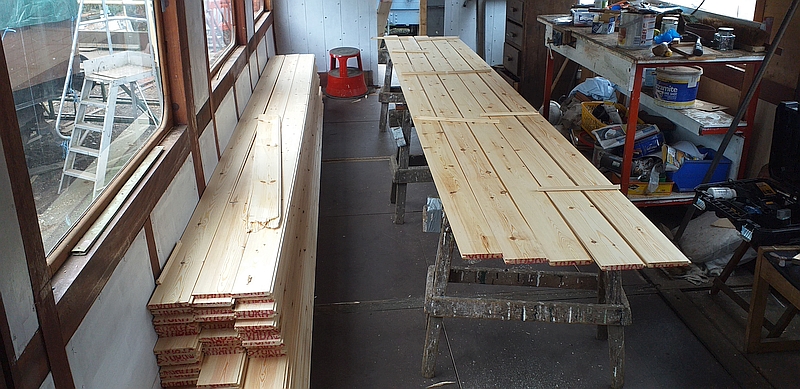 1. A consignment of wood for the ceilings. The upper side received a protective coat of Danish Oil before fixing in place.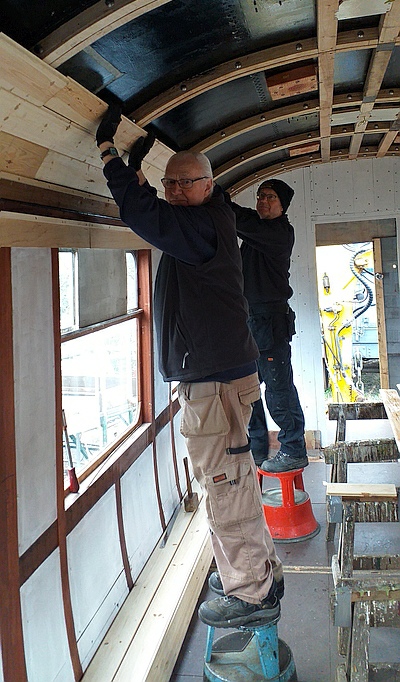 2. Roger and Andrew fit the first ceiling support planks in the saloon
3. Good progress with the saloon ceiling.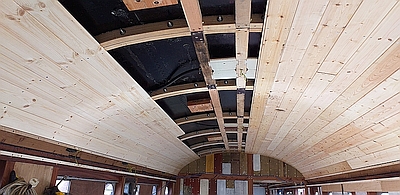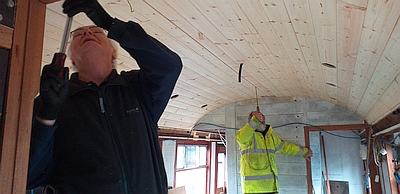 4. Fixing the last plank in the bar
Side doors. With the onset of dry weather we were at last able to start fitting the top panels to the five new doors that we fitted last year. The delivery of these panels was delayed by about six months due to issues beyond the control of the supplier, and by that time the door panels were too swollen by the rain to fit the panels! Once work started we found that the panels were well worth waiting for, requiring only the very small amount of trimming that we'd specified to ensure a good fit. Unfortunately coronavirus then struck, and the panels were very quickly removed to a member's home for drilling and pressing. Once the world restarts they'll need galvanising before they can be attached in place, so the doors will have to rely on the extra coat of Danish oil that we were able to apply. Thanks are due to South Devon Railway Engineering who persevered with the difficult manufacturing process;- the results are superb. The fitting process is illustrated in Photos 5 to 9.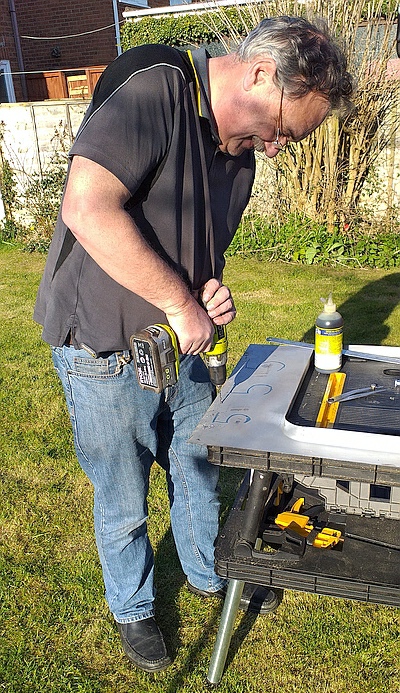 P5. Mike at home drilling door panels.
6. Double doors on 9581 with top panels trial fitted.
(Taken before the imposition of antiviral measures)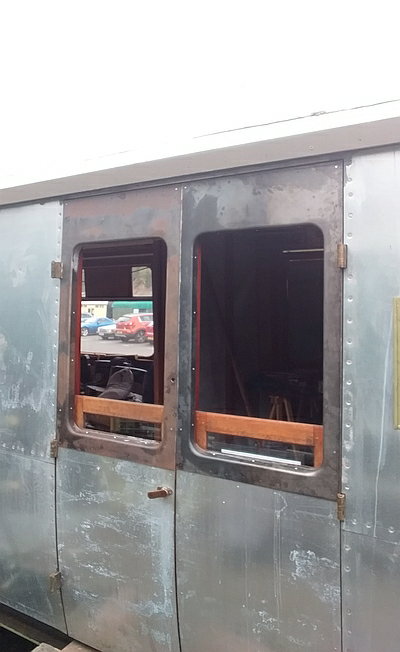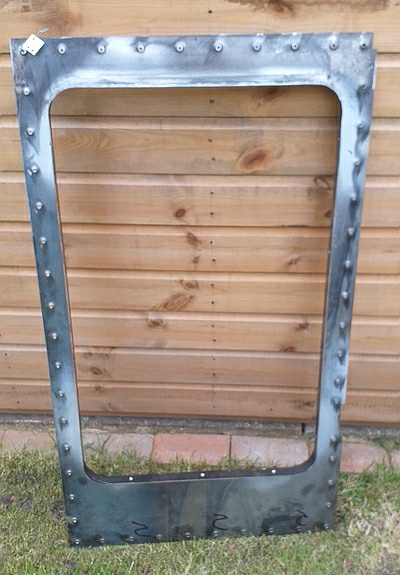 7. Door panel viewed from inside. Screw holes have been drilled and "dimpled" to take countersunk fixing screws.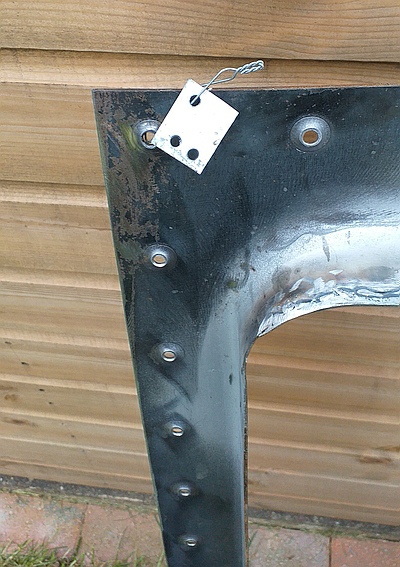 8. Tag denoting that this panel is for door No 2. Its robust enough to remain legible after the galvanising process.
Photos 9 and 10 Shew some of what Colin has been doing over the past few months. Photo 9 shews a garnish rail that makes the top of the inner panel, and carries the fitting that makes partial opening of the droplight possible. Very difficult to describe, it involves the leather strap and said brass fitting and will be well known to those who've used one! Photo 10 shews Colin in his home workshop restoring an original door top panel that was recovered from 5043. These panels were found in Toplights and bow ended stock and most of the SVR based examples carry advertisements for luncheon baskets. We felt this would be inappropriate in 9581, which really belongs to a post-luncheon basket era so they are being restored to a very attractive later condition with plain sycamore panels.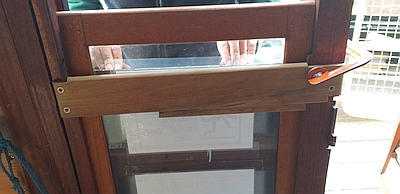 9. A newly refurbished and adapted garnish rail trial fitted to a right handed double door. Photo taken before the Nationwide Lockdown.
10. Colin at home restoring an original GWR door top recovered from 5043 for re-use in 9581.
And finally, to cheer everybody up, photos 11 and 12 are a couple of Official GWR photos of their 1930s era Buffet Cars. Although not a replica of either, 9581 is inspired by them, and will take much of its interior finish from them. Enjoy.

11. A works photo of Diagram 53 three compartment Buffet car No 9644 This rather strange combination of a buffet counter and 3 compartments helped to inspire 9581.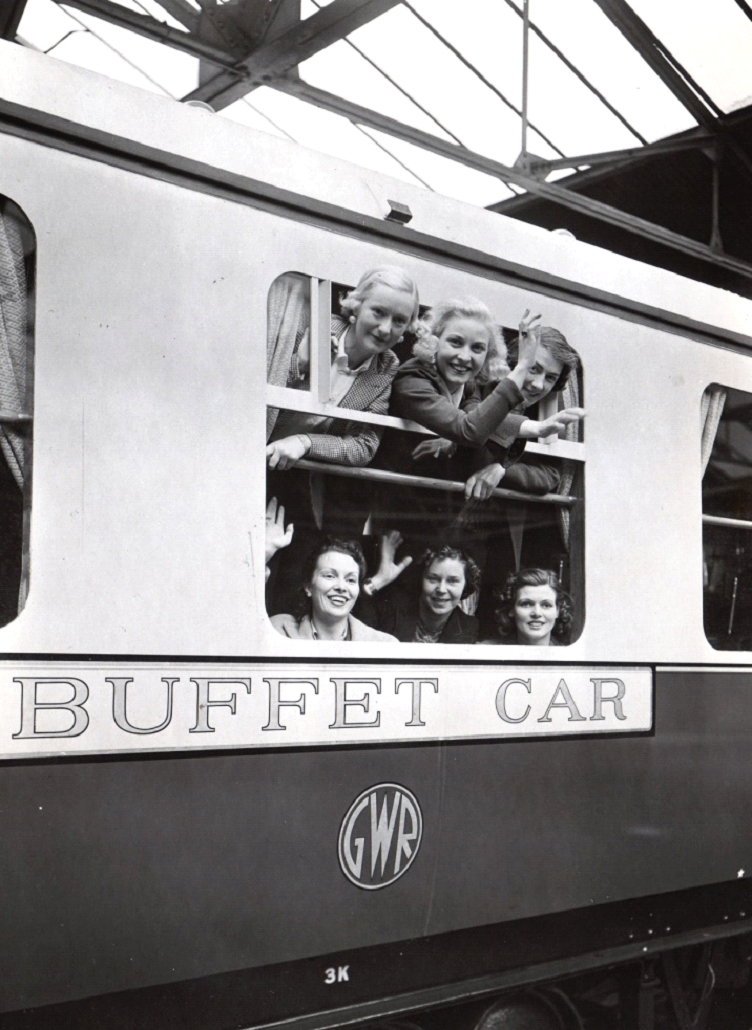 12. Finally a typical GWR publicity photo of the 1930s. Purporting to shew Diagram H55 Buffet Car No 9676, It looks more like an excuse to photograph the girls from the office, although the close up of the "Buffet Car" and GWR roundel is also of interest.
Well that's about all for now folks whilst we concentrate on obeying the lockdown and catching up with homework. We hope to get back to normality soon, but meanwhile keep yourselves safe and well.
RG 29th March 2020