GWR 9581 (Formerly 5043) Wheelchair and Buffet Progress 2020 July - December.


This site and all content is copyright of the LNER (SVR) Coach Fund and the Severn Valley Railway Charitable Trust Ltd.
All rights reserved

Progress update for 18th July 2020
Following the relaxation of the National Lockdown it's been possible to create a "Covid-19 Safe" environment in which to allow a few volunteers to return to work on volunteer projects under strictly regulated conditions. The process by which this was achieved was complex and is certain to be reported elsewhere, sufficient to say here that we're glad to be back and we hope to gradually allow more of our usual volunteers back as conditions allow.
Importantly the SVR is preparing to re-start train services from 1st August using traditional compartment stock in a way that allows passengers and staff to remain socially distanced. We urge you to consider bringing your own "Social Bubble" for a socially distanced train ride in your own pre booked compartment. There's a choice of three itineraries for a day out which can be booked here https://svr.digitickets.co.uk/tickets. The fare is £75 for a compartment seating up to six people (plus dog!) of any age as long as they are in the same social bubble and therefore represents a bargain!
A small contingent of volunteers from the LNER Group returned in two "bubbles" from 1st July and useful progress has been made on essential and overdue jobs. The overriding priority was to finally weather proof the five new doors that had been fitted in place on the carriage. During Lockdown the pressed steel top panels, which fortunately had already been trimmed to fit, were drilled and pressed for woodscrews as homework. Once restrictions were eased sufficiently they were galvanised by a contractor who was, thankfully, still operating. Fortunately the weather during lockdown was kind and the doors survived with no discernable damage, so they were very quickly cleaned, the utile frames drilled, countersunk and treated to a further coat of Danish oil. The bottom panels, which were of galvanised steel, were finished off and all assembled in record time with mastic and stainless steel woodscrews. Photo 1 shews the double doors (identified for maintenance purposes as "3 and 2") with all panels fitted and finally watertight. Doors 1-5 have all been similarly treated. The brand new droplights had started to suffer from deferred maintenance, drying out in their exceptionally prolonged exposure to strong sunlight. Fortunately they responded well to treatment which included a good clean, rehydrating the timber by dousing them with water, and then when surface dry by applying two coats of Danish oil.
Other essential work was also tackled. Most of the window seals leaked during the heavy winter rain and it had been hoped to sort this problem as soon as the weather improved, however…….! While the doors were being sorted, other volunteers examined these seals, and began remediation. Whilst a few were obviously short of sealant and this was rectified, most of the fixing screws were loose, probably as a result of standing for two summers and one winter. So the screws were tightened, resulting in much sealant squeezing out of the joints, and we'll see what happens when it next rains.
The ceiling boards were found to be loose, probably due to the rush to get them up before lockdown. Securing these properly with more screws and tightening the existing ones is a job in progress.
The attaching of the electrical fittings that were refurbished as homework has also begun. Photo 2 shews an underframe mounted battery charging socket, used when required by the Carriage Maintenance personnel. Photo 16 shews a number of components required to make the electrical system work :- the Distribution Fusebox, Balance Resistor box, Voltage Regulator and Charging Socket, all fitted in place on 17th July.
That brings the situation up to date; so there now follows a report on some of the homework that has happened over the past 3 months. Colin, Mike, Dave and Bill S have been preparing various small components for use when the time comes, and here are a selection chosen because we had the photos!
Photos 3 and 4 shew some of the door interior fittings that Colin has been either refurbishing or making from new, with the aim of having a full set ready to go on once the heavy work is finished. The finish is mahogany stain and the lighter top panels are sycamore. They set the standard to be followed when fitting out the interior!
Photo 5 is particularly interesting as it shews some essential fittings that should never be seen. They are the working parts of the main saloon ceiling lamps and identical to those in SVR Based GWR Restaurant Cars 9653 and 9654. However few people will recognise the parts in the photo as they are normally hidden by a white painted spun metal cover. These "pyramids" were made on Mike's 3D printer of a heat resistant long lasting grade of plastic commonly found in Lego Bricks.
Photo 6 shews the blank for the dynamo tensioning arm, awaiting further work including the boring of the hole for the pivot pin, and threading the rod to take the two adjusting nuts.
Photo 7 Bill S made a set of replica ceiling vents for use in the saloons, kitchen and WC. Usually painted white to match their surroundings, this one is seen in the very early stages of preparation for painting.
Photos 8, 9, and 10 shew some stages in the refurbishment of a set of budget locks, used to secure the doors. Other than dirt, the main problem was the springs which, being steel, had turned into piles of rust. To replace them the covers had to be removed, resulting in several broken screws that needed drilling out before the holes could be re-threaded.
Photo 11 shews the main distribution fuse box. It's in a weathertight cast iron case and to be found mounted on the carriage underframe close to the voltage regulator.
Photos 12 and 13 shew some of the small, unseen components used to suspend the gangway arches on the ends of the carriage. They wear out, and thus several were missing from the items in store! These simple looking bearings are a difficult shape to hold, and proved quite a challenge to turn on Mike's lathe.
Photo 14 shews the circular terminal blocks for the jumper leads that pass between carriages and allow the lights along the whole train to be controlled from one switch. Although in good condition, several terminal screws and nuts were missing and had to be replaced from stock.
Photo 15 Shews a door hinge part way through modification. On carriages built by the GWR before about 1930 a more complicated stepped variety was used which looked tidy but fitting them was much more time consuming than the later flat design. A further complication was that they were "handed" and we were short of one for a right handed door, meaning that another hinge had to be modified to suit; this photo shews the modified hinge after brazing on a new piece but before trimming to shape, drilling and polishing.
Dave C has also spent much time at home continuing with the overhaul of the glazed sliding shutters, unfortunately no pictures are available.
Unfortunately due to "Covid-19 safe" working practices and the budgetary constraints resulting from the SVR's loss of at least 4 month's income, there is little chance of catching up the time lost on overhauling 9581. Hopefully over the next month or two the future may become clearer, meanwhile we plod on! In the meantime we urge you to consider bringing your "Social Bubble" for a socially distanced day out and train ride in traditional British compartment stock, which can be pre-booked here https://svr.digitickets.co.uk/tickets. The fare of £75 is for up to six people of any age and therefore represents a bargain!
RG 18th July 2020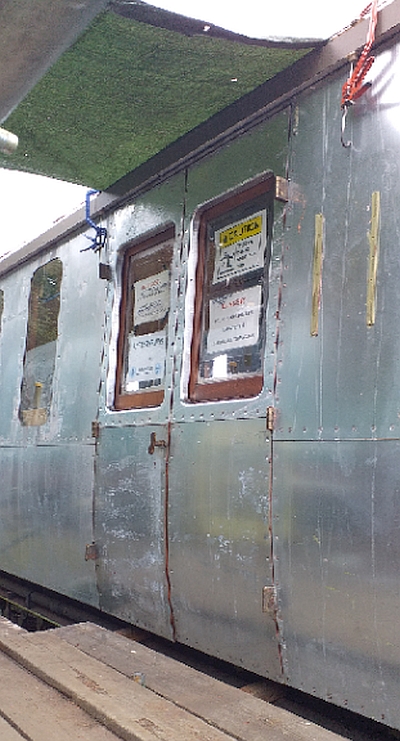 1. Doors 2 & 3 with exterior panels. attached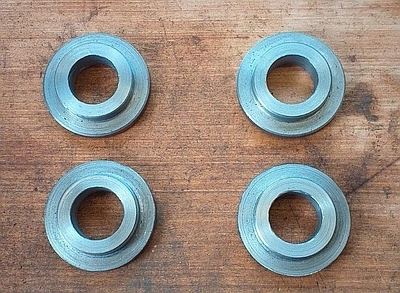 12. Spring location collars for gangway.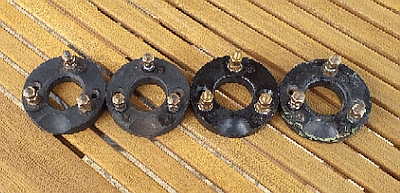 14. Jumper lead terminal blocks.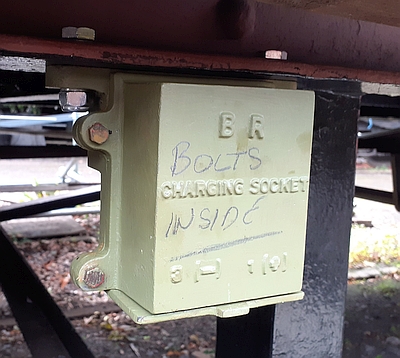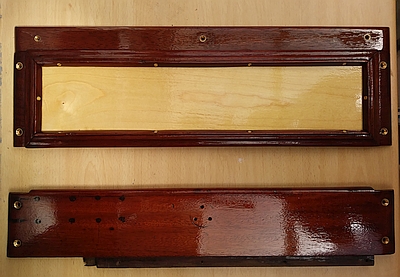 4. Interior door top and waist rail.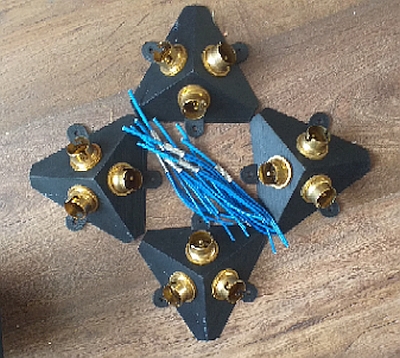 5. Three bulb lamp innards.
6. Blank for dynamo tensioner.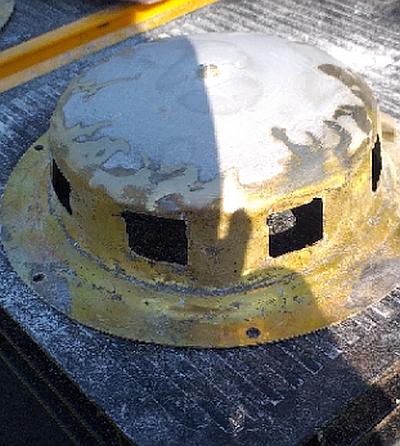 8. Dismantled Budget Lock.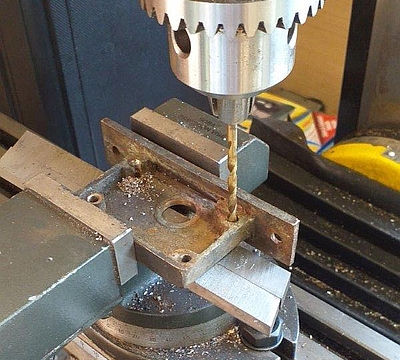 9. Drilling out broken screw.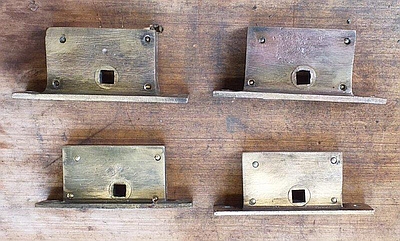 10. Refurbished budget locks.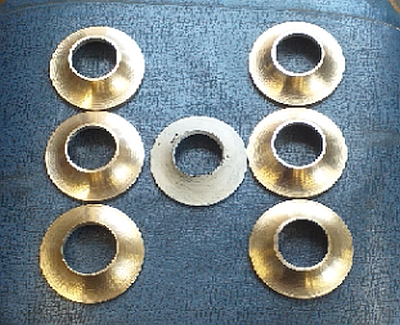 13. Gangway support collars.
Progress update December 2020
The final 5 months of 2020 were ones of upheaval, and whilst good progress was made on various fronts, little actual work was carried out on 9581, partly due to more urgent work needing doing, partly the unwanted effects of "outside factors", and the overriding need to conserve the SVR's money for more pressing matters.
Once we'd made 9581's expensive new doors watertight we were asked to move onto a pair of important and much delayed jobs. The first, which involved all groups at Bewdley, was to bring all of the steps and platforms into line with the latest Safety Standards which had, of course changed in small but significant ways since the equipment was installed, causing many people much stress, worry and work. See Photo 1.
Following on from this, the LNER Group was asked to help with the sorting and tidying of the C&W stores at Kidderminster which had become somewhat disorganised, largely due to the heavy workload on the shoulders of the greatly reduced and socially distanced workforce during and in the wake of the first lockdown. This simple sounding job was made more difficult for us because of the wide variety of items held, mostly spares for the vehicles in SVR traffic and components of carriages under restoration for SVR service. So, the main challenge was to identify unknown items. Being LNER specialists these were easy for us, LMS, BR and GWR items less so. Fortunately help with identification was readily to hand and we soon had a good idea of what was what and went where. A few items were found to be surplus and rehomed to help with restoration projects at other places. A very welcome "Good News Story" was the finding of some interior fittings, removed years ago for safe keeping from a carriage that we once intended to restore. However the carriage was deemed to be unsuitable for the "rough and tumble" of daily service with our LNER Set and moved to another good home where it's been very attractively restored for display. We had the great pleasure of returning these fittings to the new owners who will gladly renovate and put them back where they belong.
9581 also benefited greatly from this stores sorting. As alluded to above the current economic situation means that we must employ the principle of "Best Value" by making full use of existing resources. A considerable quantity of useful parts and materials came to our attention and were quickly "nabbed". Included was a full set of the very steam heating radiators, valves and covers that we had been planning to spend good money on making from scratch. By prior arrangement our good friend Graham collected them from Kidderminster and we stored them in 9581. The wooden covers very quickly moved on to Colin's home workshop where he agreed to restore them to pristine condition. Photo 2 shews a renovated section of cover that's been stripped, repaired. stained mahogany colour and received its first coat of varnish.
As November approached we intended that a very small number of volunteers would resume work on 9581, whilst others would carry on at Kidderminster. Of course Lockdown 2 intervened leading to another enforced break. When this ended at the start of December it became "Tiers". Kidderminster was out of the question, we concentrated on 9581. Working in very small Socially Distanced numbers and in two "shifts" at various locations in Bewdley a start was made on several jobs, none of which were finished before Lockdown 3 was imposed a month later. However Shift 1 managed in its 3 days per week to;-
• Fit the steel heat shields behind the radiators (Photo 3)
• Attach the large radiators in place on the walls, firstly setting them up correctly using the previously made temporary wooden fixings and then securing them with the permanent steel clips that were pressed to shape in our workshops (Photos 4, 5 and 6)
• Make a start on fitting the steam heat valves (photo 7). These BR Standard fittings live on top of a steel mounting plate, we only had one so several more had to be made at no cost in the workshop from offcuts of steel that we had to hand. As the steam supply is from under the floor, connecting these to the main steam pipe is a job for later when 9581 is lifted for mechanical repairs.
• Fix in place with panel pins the decorative panelling to the corridor side of the WC compartment wall. The proper attachment with woodscrews was scheduled for early January but fell victim to Lockdown 3. Photo 8 possibly makes this a little clearer.
• The sliding shutters (the small windows that slide open to improve ventilation) were reglazed over the previous 3 months by Dave C as homework. By early December they were finished and returned to Bewdley where they were fitted in place above the main windows. A small amount of fettling was needed to make them slide freely, and although all are in place some freeing up work is still needed on a few of them (Photo 9).
• Permanently screw down to the joists the numerous flooring grade plywood panels that, during 2019 had progressively replaced the original floorboards (Photo 10). This job is about half finished and once complete a second layer, in larger panels, will be cut to size and screwed in place on top of that shewn in the photo.
• Meanwhile, on the other 2 available days of the week, Shift 2 concentrated on one job, the time consuming one of running the internal wiring (Photo 11), making splices for power supplies to individual lamps and, as homework, made up a connection panel (Photo 12). Again fitting this in place was a victim of Lockdown 3.
• Finally, we just beat the start of Lockdown 3 by receiving another hastily arranged favour from Graham. This time he collected a goodly load of flooring grade plywood from Kidderminster, left over from Hawksworth BTK 2242 which had just received a new floor. There is enough to make about half the outstanding second layer of flooring in 9581. In another example of "Best Value" we gladly purchased it from the GW (A), moved it into 9581, locked up and went home. We now await the arrival of better times.
So, that just about sums up our 2020:- the year from Hell. Whilst we can all feel delighted to see the back of it, and hope 2021 will be the year of recovery it's probably not realistic to expect anything near normal working to resume before April. However we are making plans and preparing to order any necessary parts and materials for a speedy resumption of progress when allowed.
Meanwhile everybody please "Keep Safe"
RG 14/1/2021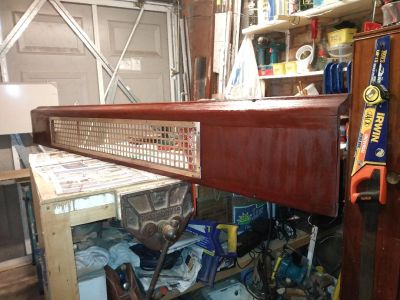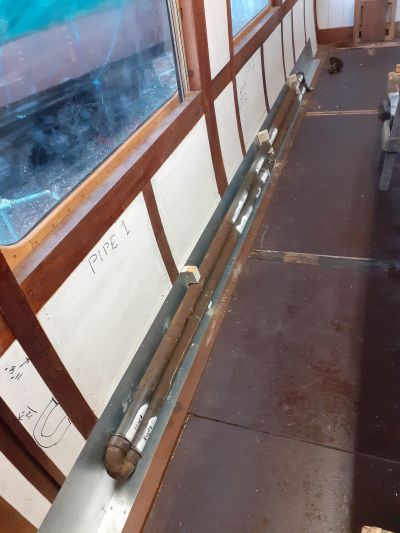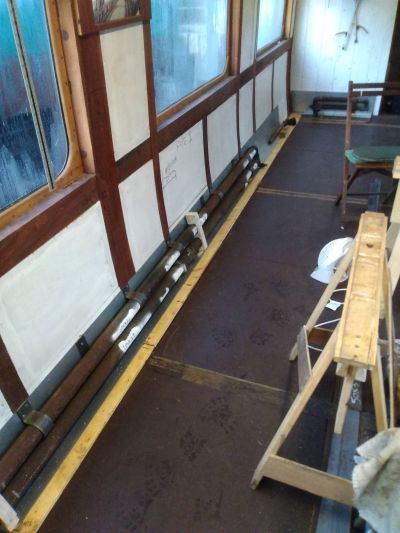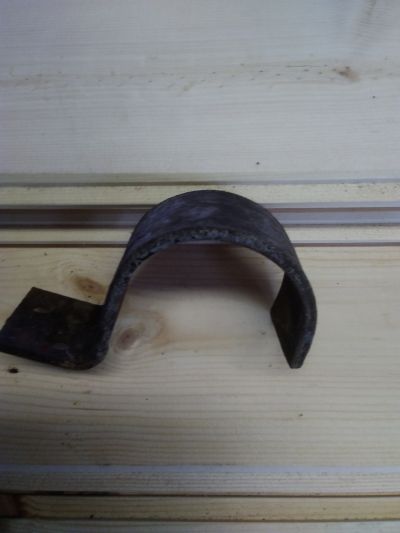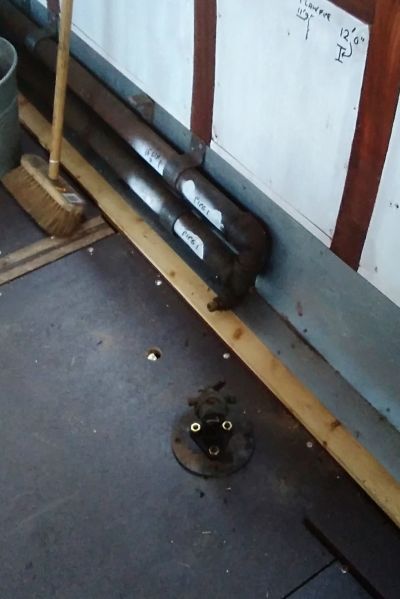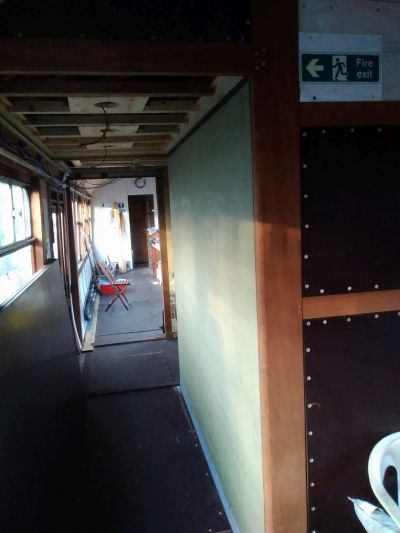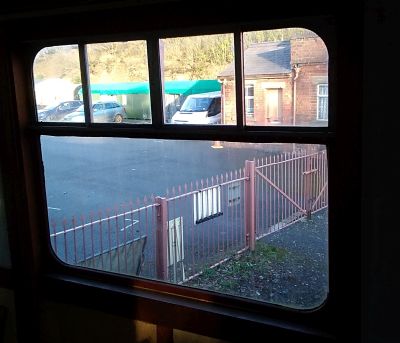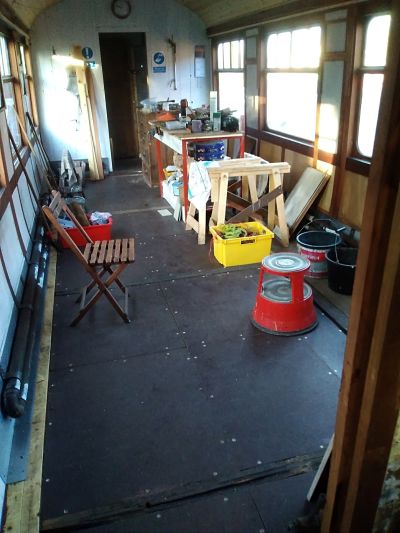 1 Refurbished platform P1
2 Heater cover in first coat of varnish
4 A radiator on temporary fittings
5 The same radiator with its permanent clips in place
6 An example of the permanent clips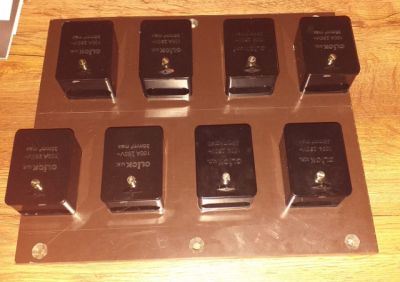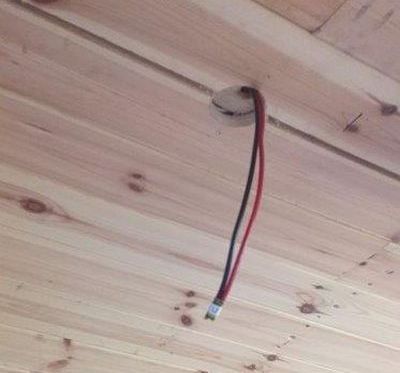 11 Wiring run and ceiling lamp supply